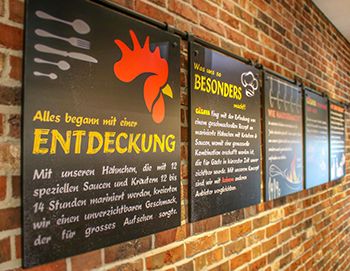 OUR INCREDIBLE HISTORY
Gagava has been around since 4 December 2015 in the Cologne Arcaden. We went in search of something special to find something unique, the culmination of Chicken lovers.
We created an indispensable flavor, with our chickens being marinated with 12 special sauces and herbs, 12 to 14 hours. With our discovery we caused a great stir. The delightful combination became indispensable for guests in no time at all. With our concept we are not comparable with any other provider.
Since we believe in our dishes and health has a very high ranking in Gagava, we do not use flavor enhancers (Monosodium Glutamate).